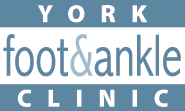 Our Clinic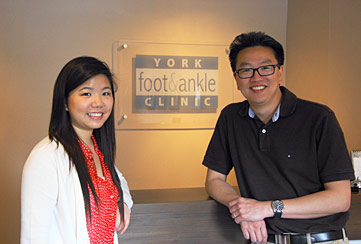 At York Foot & Ankle Clinic, you can expect a warm, friendly and professional environment. You can rest assured that your questions and concerns about your foot health will be addressed by knowledgeable and caring staff. We take pride in our experience with providing foot care education, information and options to meet specific needs. To see our chiropodist, your doctor's referral is welcome but not required. If you have a specific foot care need, call us today! We look forward to meeting with you in one of our two conveniently located clinics in Aurora or Markham.
Your Chiropodists
Edward Yip B.Sc., D. Ch.
When you see us at the York Foot & Ankle Clinic, you are putting your feet in good hands! Your chiropodist, Edward Yip has more than 15 years of experience in practicing chiropody. He graduated with an Honour's Bachelor of Science degree in Physiology from the University of Toronto and later graduated from the Michener's Institute in Toronto in Chiropody. Edward gained invaluable international experience in 1998 when he practiced in the London Foot Hospital and the University of Westminster School of Podiatry, both located in the United Kingdom. Returning home to Canada, Edward provided his expertise in Toronto when he joined the chiropody staff and the multidisciplinary Wound Care Team at the St. Michael's Hospital. Edward is a past president and active member of the Ontario Society of Chiropodists. He is now a key health care provider in the Markham and Aurora communities, well known and respected for his professionalism, knowledge, compassion and friendliness.
Victoria Chan-Kwan B.MSc., D.Ch.
Victoria Chan-Kwan graduated with an Honour's Bachelor of Medical Science (H.B.MSc.) from the University of Western Ontario. She then graduated with an Advanced Graduate Diploma in Chiropody (D.Ch.) from The Michener Institute in Toronto. She has gained nvaluable experience from many different clinical environments including the Dermatology/Wound care unit at Women's College Hospital in downtown Toronto, multiple community health centres throughout the GTA, as well as clinics specializing in diabetic foot care. Victoria is an active member of the Ontario Society of Chiropodists and is registered with the College of Chiropodists of Ontario. As a respected primary health care professional, Victoria has the expertise to assess, treat, and manage any foot related issues you may have.
Initial consultation
Your first visit to our clinic will include a complete physical examination of the feet and legs. A thorough medical history will be taken because many medical conditions can impact the feet. Be sure to bring a list of your current medications as well as your most commonly worn footwear.
OHIP does not cover the cost of chiropodial care, however most extended private insurance plans will provide coverage.
Reduced fees are available for seniors and children.
Foot Facts
The average person takes 8,000 to 10,000 steps in a day. Over a normal lifetime this adds up to more than 184,000 kilometres.
The skin on your feet is 20 times thicker than on any other part of your body!
See more facts
Please contact us at:
Aurora Clinic
42 Wellington Street East
Aurora, ON L4G1H5
(905) 713-2546
Google Map
Markham Family Medical Centre
3000 Hwy 7 East, Suite A202
Markham, ON L3R 6E1
(905) 480-1050
Google Map