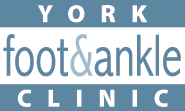 Foot Facts
The average person takes 8,000 to 10,000 steps in a day. Over a normal lifetime this adds up to more than 184,000 kilometres.
The skin on your feet is 20 times thicker than on any other part of your body!
About 75% of North Americans will suffer a foot problem in their lifetime.
There are 208 bones in your body. 25% of them are in your feet.
There are approximately 250,000 sweat glands in a pair of feet, and they excrete as much as half a pint of moisture each day.
The pressure on your feet when running can be as much as four times your body weight.
In China during the early 10th century, foot binding was seen as a sign of beauty and was practiced by all social classes. Foot binding was a tradition in which the toes were tightly wrapped in cloth breaking the bones and curling the foot under. After a number of years performing this ritual from about the age of 5 onwards, the front and back of the foot would be forced together to give the impression of small dainty feet.
It is estimated by scientists and historians that the first shoes were created during the ice age 5000,000 years ago and were made from animal skins.
"When our feet hurt, we hurt all over". Socrates, Ancient Greek philosopher
Chiropody was first used by the ancient Egyptian civilisations and later by Hippocrates who educated students in ancient Greece about removal of corns and calluses to promote health. Records also show Napoleon and the King of France had used a chiropodist.
Foot Facts
The average person takes 8,000 to 10,000 steps in a day. Over a normal lifetime this adds up to more than 184,000 kilometres.
The skin on your feet is 20 times thicker than on any other part of your body!
See more facts
Please contact us at:
Aurora Clinic
42 Wellington Street East
Aurora, ON L4G1H5
(905) 713-2546
Google Map
Markham Family Medical Centre
3000 Hwy 7 East, Suite A202
Markham, ON L3R 6E1
(905) 480-1050
Google Map